Meet Grey Moggie Press!
Four years ago, Melanie Ouellette Karlins opened Grey Moggie Press and began creating beautiful letterpress greeting cards, custom stationery, business cards, and event stationery. Grey Moggie Press creates everything from wedding invitations to witty greeting cards and coasters. Every item designed and printed by these talented creatives is awesome! We are super excited to see what Grey Moggie Press come up with your our Vendor Social tomorrow!

Want to be a Participating Vendor at a future social? Click here!
---
When did you decide you wanted to open your own company?
It was sort of by accident. I started letterpress printing as a hobby when I needed a creative outlet during law school. When my daughter was born a few years later, I quit my 9-5:00 job to be at home with her. I slowly got back into letterpress printing, teaching at a local art center on the weekends and printing in the evenings after my daughter was asleep. Then, I started selling my cards at Eastern Market on the weekends. From there I started selling my greeting cards to shops all over the country and exhibited at our first trade show. In recent months, we have started taking on more custom work. We also want to branch out into other promotional materials. For example, one of our clients has recently asked us if we would be interested in designing and printing a brochure. This is definitely something we will be considering in the future.
How did you come up with the name of your business?
We want people to be excited about paper, about writing letters instead of emails, about sending physical and not electronic invitations. I love the idea of sitting down at my desk on a rainy afternoon with my favorite pen, a cup of tea, and my grey cat. That would be a perfect afternoon and we want everyone to feel that way about writing letters and sending mail.
What is your favorite part about what you do?
I love printing something new for the first time. It is the biggest rush to see a product come to life after dreaming it, designing it, and then making it.
Grey Moggie Press | Letterpress greeting cards, custom stationery, business cards, event stationery, invitations
IG | T | FB | Blog
melanie@greymoggie.com
---
District Bliss DC ? Creatives, Wedding + Event Vendor Social ? Happy Hour
Wednesday, 4/6 from 6:00 – 9:00 PM at Marvin in Washington, DC
Want to be a Participating Vendor at a future social? Click here!
---
A New Spin on Networking Events
A Place where Wedding + Event Vendors and Creatives can Socialize, Network, get Inspiration – and Just Have Fun!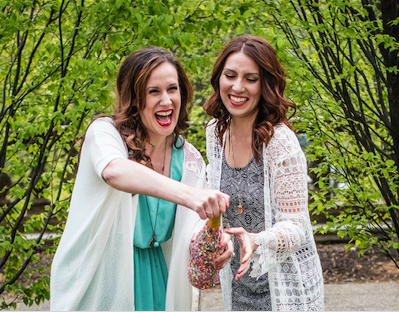 Tickets: Admission + sips + sweets + appetizers + gifts + giveaways + tons of FUN!
Our goal is to make vendors + creatives FEEL like the event is really being thrown for them – with all the bells and whistles. Those of us in the events/wedding industry attend a lot of events, but none of them are FOR us! Our Vendor Social is a happy hour where vendors + creatives can cut loose – and take a night off! It's our way of thanking you for all of your hard work. We want everyone to feel welcome and have a great time – because you deserve it!
Want to be a Participating Vendor? Click here!
---
You WILL find
Tons of awesome crafts and unique decorating
Sips – because what's better than having a toasting with other rad entrepreneurs?!
Sweets and treats
Vendors who are excited to hear about your business and ideas
Participating Vendors who are highlighted for helping to make each event unique
Fab gifts and giveaways
Inspiration
You WILL NOT find
Booths of vendors – because this is NOT AN EXPO!
Hard-selling/aggressive networking; this type of behavior is not acceptable at our Vendor Socials
Competition – because we're all friends here!
Awkwardness – because we're super pumped to meet you!
Cliques
Pressure! This is a PRESSURE-FREE zone!
---
Participating Vendors
Marvin | Venue Space, Catering
Andrew Roby Events | Event Planner
Pearly Kate Photography | Photographer
Grey Moggie Press | Designer
A-list Photo Booths | Photo Booth
Kate Bakes Bars | Edible Gifts
Elan Artists | Live Music
Kendra Scott | Giveaways
GoodShuffle | Linens, Decor
…Stay tuned – more to come!
Want to be a Participating Vendor? Click here!
FAQs
– What are my transport/parking options getting to the event? The closest metro is the U Street station (green line). Parking can be tough in that area, especially because they've changed some of the streets to 24-hour residential parking only (mostly north of U Street), so we'd recommend trying to park south of U Street and avoiding 14th Street.
– What can/can't I bring to the event? Yourself! Business cards, if you'd like to do some networking.
***THIS IS NOT AN EXPO! There will be NO BOOTHS or space to set up products***
– Is my registration/ticket transferrable? You may not transfer your ticket without the permission of District Bliss. Additionally, tickets are not transferrable between vendor categories.
Please be sure to RSVP in the correct category. We strive to be fair to all vendors. Thanks!
WHEN

WHERE

Marvin – 2007 14th Street Northwest, Washington, DC 20009 – View Map