Hosting Online Events 101: Plan, Execute, + Get Paid
December 16, 2021 @ 1:00 pm

-

2:00 pm

EST
How to Host an Exciting, Engaging Event that Converts
Do you struggle with marketing your event?
Are you confused about where to post your event for the best exposure?
Do you feel your event is getting lost in the sea of other events?
You realize the importance of hosting virtual events and everyone seems to be doing it; you want to stand out from the crowd, but you aren't even sure where to start.
Find the support you need to host high-converting events!
Join us and get your event onto your ideal audience's calendars and convert them into clients.
You'll walk away knowing…
The three pillars for event success that we've used over 300 times!
Your true purpose. Maybe it's to make money, gain emails or teach?
The proven ways to increase your visibility.
The best places to distribute your event and why.
How to effectively market your event!
How to activate your network to fill your event.
BONUS: Worksheet to guide you into your next successful event — and beyond!
This workshop is for you if…
You know you need to be doing webinars, but you don't know where to start.
You are uncertain about how to market your event.
You're unclear on how to fill your event with people outside of your immediate network.
You're ready to increase your sales, build your email list and so much more!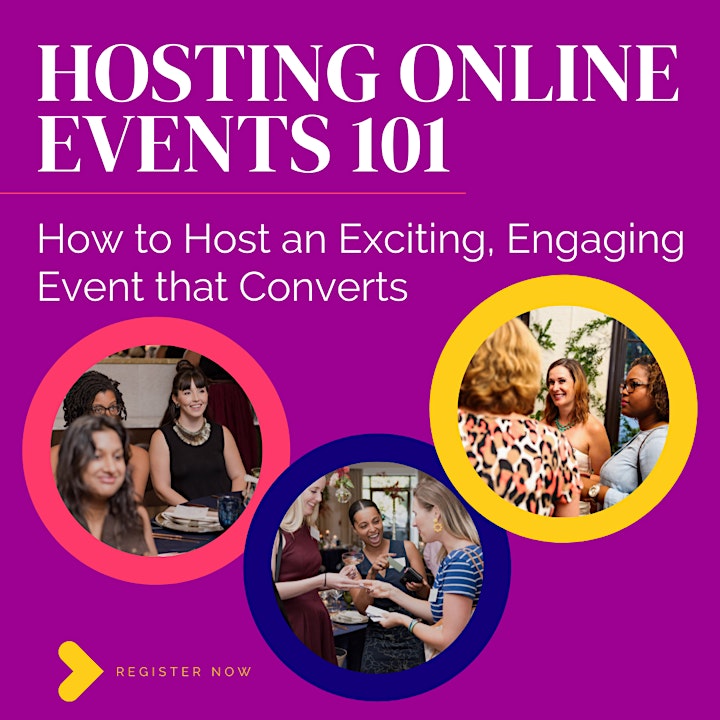 The Leader in Virtual Events
We've hosted hundreds of events and have been a part of other large and small virtual events. What makes us different is our approach. We don't just throw an event together, we develop an experience.
Learn from our wins and our mistakes!
Kristina Kury, Founder and CEO of Sprout Creative
Sprout Creative works with small business owners who are busy running their business, overwhelmed with marketing, and whose growth has plateaued to turn their marketing into a manageable, automated, stress-free marketing machine.
She has over 12 years of experience in the marketing industry with brands such as The Coffee Bean & Tea Leaf, Wolfgang Puck, and Sky Zone.
Kristina is also the co-host of a comedy podcast, Laughing with Gingers, which has been gaining major traction in the comedy podcasting genre.
Sara Alepin, Founder and CEO of District Bliss
Sara is a master connector. She's so good at it, she turned it into a business when founding the District Bliss community.
As an extrovert living in a work-from-home world, she's found ways to leverage connections and continue to expand her multiple businesses, even during the pandemic.
In addition to being the CEO of both District Bliss and Photos from the Harty, Sara is also a podcaster x2 as the host of The Wedding Dish and co-host of Laughing with Gingers.
Erin, Founder and CEO of Mabely Q
Erin Perkins is a deafblind entrepreneur, disabled rights activist, and accessibility educator dedicated to making the business world more inclusive. Her fierce advocacy comes from her life experiences as a deaf woman and owner of a small online business, Mabely Q.
Though she founded Mabely Q in 2018 as a graphic designer and online business manager, Erin's true gift is working with CEOs who want to lead by example. Whether she's teaching via a keynote speech, private workshop, or one-on-one consulting, Erin freely shares her experiences as a deaf woman with others to help make the world a more inclusive place for others with disabilities.
She has captured audiences with her empathetic, patient style as a speaker to groups like The Rising Tide Society, Altared, Simply Profitable Designer Summit, Blogger Breakthrough Summit, and others.