Get Fit to Profit! Financial Wellness Workshop for Small Business Owners with DeDee Cai (ONLINE)
June 4, 2019 @ 12:00 pm

-

1:00 pm

EDT

$25
GET FIT TO PROFIT! FINANCIAL WELLNESS | ONLINE WORKSHOP WITH DEDEE CAI
June 4, 2019  |  12:00 – 1:00 pm EST // 9:00 – 10:00 am PST
---
---
Heal Your Relationship With Money!
We seem to talk about everything possible from sex, religion, politics, gun violence, and mental health. As humans, we look to nurture all of our relationships. However, we fail to acknowledge the one most important topic, money, and our relationship with it. We all thrive on relationships, yet, we neglect to talk about our money challenges or successes. There is shame about not having enough, and shame around having too much of it. Why? Unless, we choose to openly discuss how we treat money, and the making of it, a healthy conversation, money issues will always creep up into our life and business. Let's have an honest conversation about where you are financially, and get your wealth check-up, and improve your relationship with money during our session today!
---
---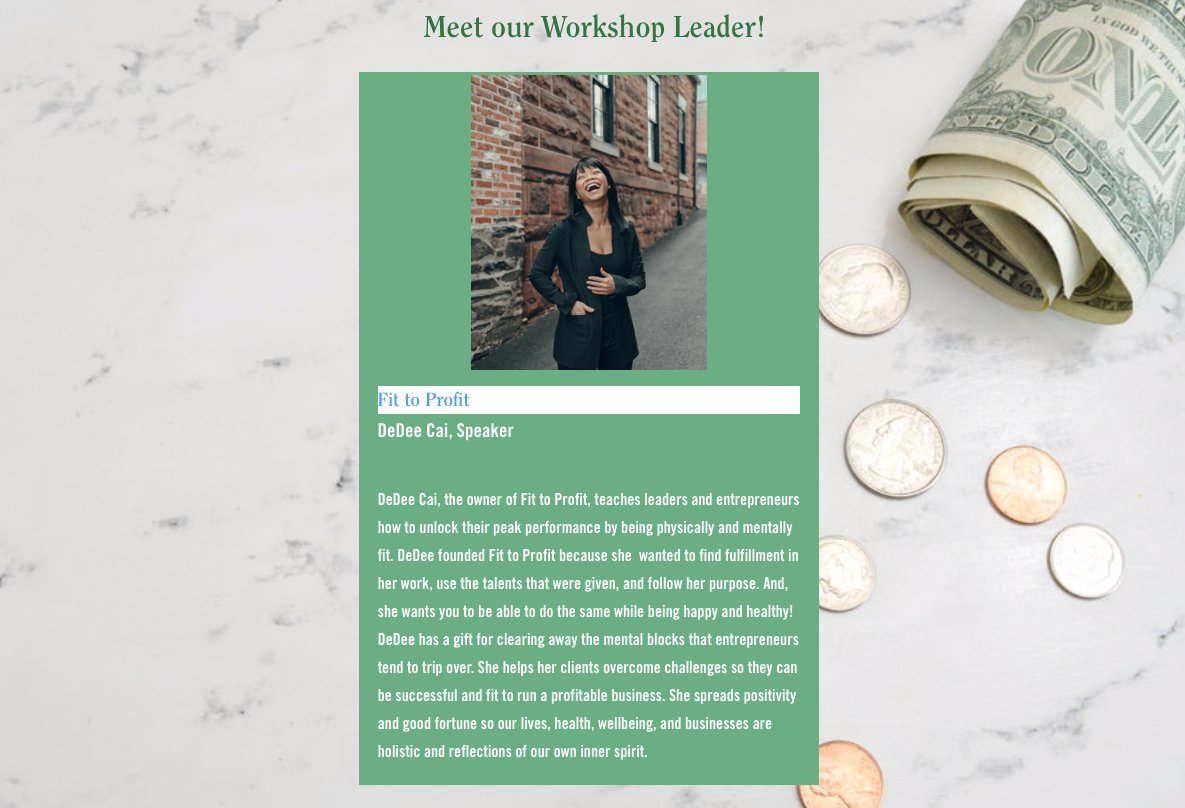 Meet our workshop leader!
DeDee Cai, the owner of Fit to Profit, teaches leaders and entrepreneurs how to unlock their peak performance by being physically and mentally fit. DeDee founded Fit to Profit because she wanted to find fulfillment in her work, use the talents that were given, and follow her purpose. And, she wants you to be able to do the same while being happy and healthy!
DeDee has a gift for clearing away the mental blocks that entrepreneurs tend to trip over. She helps her clients overcome challenges so they can be successful and fit to run a profitable business. She spreads positivity and good fortune so our lives, health, wellbeing, and businesses are holistic and reflections of our own inner spirit.
She has experience building brick and mortars spending hundred of thousands of dollars to now building her successful virtual business for less than $200. She will share how she transformed her relationship with it, going from hating the idea of having to earn money to survive, to learning how to love creating it. You don't want to miss out!
---
---
District Bliss Members receive FREE ACCESS to this workshop!
---
---
Follow our Journey! IG | FB